Speed Camera Radar
2.1.10
Radar App – Get Warnings for Upcoming Road Hazards
Are you a frequent traveler by road? Do you often miss speed cameras and get fined because of this? If yes, then this radar app can be a lifesaver for you. Speed Camera Radar is a useful app which allows you to receive notifications regarding the road hazards that you might encounter on your route. It enables you to get warnings and alerts about any issue that might be ahead. You can simply change your route in light of the hazard alert or prepare yourself for what is coming up. For instance, if there is repair work going on the road then you can take another route. However, if there is a speed camera up ahead then you can slow down your vehicle to avoid getting a speeding ticket.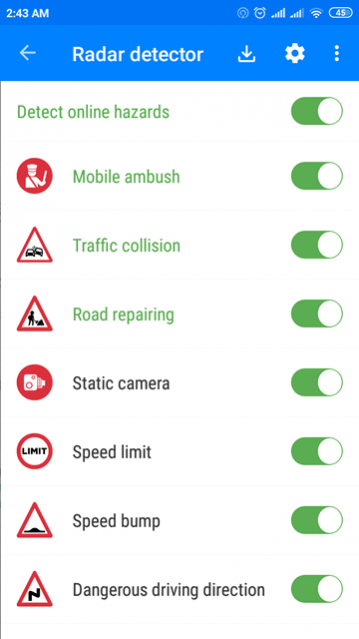 Speed Camera Radar has an intuitive user interface which coupled with its simple design and layout makes it easy to use for everyone. You only need to enable your phone's GPS to get this radar app working. The home screen can be viewed in two different modes. You can either view it in the in Radar mode or the Map mode. The Radar mode screens for hazards and shows them as red dots along the route you are following. In the Map mode, you get to see a map of the area you are in and the hazards are shown as lines along the roads. When you are approaching any hazard, a voice alert will sound, letting you know the hazard which you are about to face.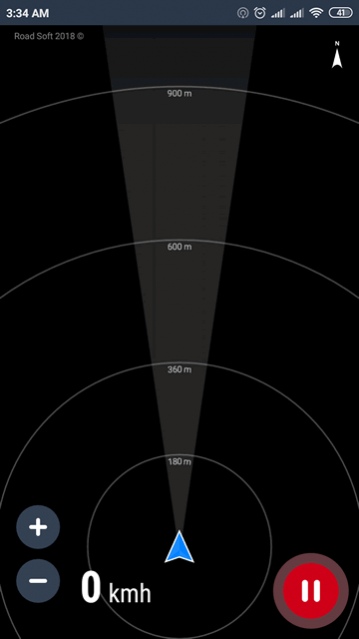 This radar app gives you the chance to toggle between the Map and Radar mode as per your choice. You can switch between the two modes in the Settings section of this app. For the Map mode, there is a Night mode available too. Activating this mode can help you in seeing the map when you are driving at night. The option for activating the Night mode is also located in the Settings menu. Aside from showing your hazards, Speed Camera Radar displayed the speed of your car on the dashboard. This helps you in knowing how much you need to lower your speed if a speed camera is coming up on the road. You can select the hazards that you want to be notified about in the Settings section.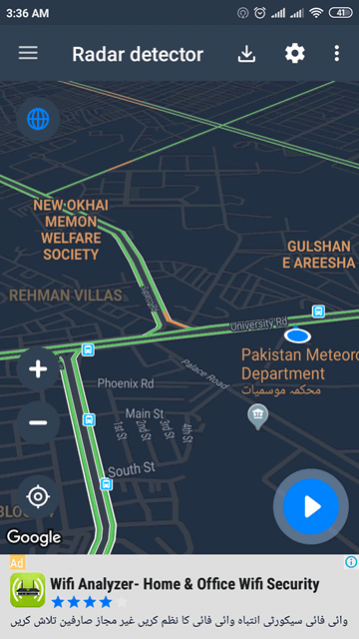 Speed Camera Radar can work without an internet connection. However, you would have to download the database of hazard POIs it has for your country before you can do that. Since this radar app collects POIs from a global audience, you can easily find the database for your country quite easily. This database is updated on a daily basis. You would need an internet connection for this update to be completed. The hazard POIs that Speed Camera Radar has in its database come from its wide user base. They add the POIs which are processed and then added to the database. You can add your POI to the database too and warn others about the hazards you face on your route.
Features:
Intuitive user interface
Simple design and layout
Multiple modes on offer
Radar mode to screen for hazards
See all the routes in the Map mode
Night mode on offer for seeing the Map at night
Option to zoom in and out of the map
Car speed is shown on the dashboard
Thousands of hazard POIs in database
Option to add your own POI
Voice alerts when approaching hazard
Database updated on a daily basis
Conclusion:
Speed Camera Radar is an app which will primarily appeal to people who travel a lot and have to take routes that they don't know much about. It provides them regular updates about any hindrances or obstacles that might lie ahead and ensures that they don't get held up. It is definitely a handy radar app to have on your phone if you want your journeys to be safe.
---
Add a review
Tell us your experience with
Speed Camera Radar
2.1.10
RELATED PROGRAMS
Our Recommendations
---
---
---
---